NEXO announces the launch of two new 4-channel amplifiers that will collaborate with the new DTD Speaker System to create compact, lightweight and intelligent enhancement systems for the installation and rental market.
At ISE Fair in Amsterdam, two amplifier models, DTDAMP 4 × 0.7 and DTDAMP 4 × 1.3, were presented for the first time. They are 4-channel amplifiers with a height of 1U, with output power of 700 W and 1300 W (4 × 4 Ohm). Each block weighs only 7.5 kg.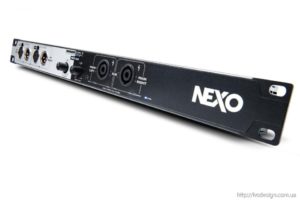 Both versions of DTDAMP offer:
• High-performance amplifiers and Switch-Mode power supply
• Channels can be independently configured in Bridge modes (2 to 2)
• Four inputs on the XLR, four outputs on the SP-4
• Extended security system
Ready for both heavy tours and for installations, DTDAMP provides all the sensors and security systems that are required from a professional travel amplifier, like protection against ultrahigh and low voltage, DC output, short circuit, etc.
The variable-speed cooling system provides quiet and cool work of the amplifier, while the back-cooling direction provides compatibility invawes for large installations, where both NEXO-TDAMP and NXAMP amplifier models can be installed.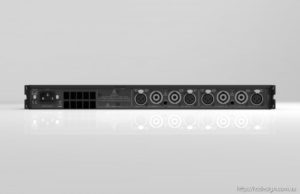 New DTDAMP 4-channel amplifier range is the perfect companion for the new Nexo DTD Controller; together they represent the perfect NEXO controller-amplifier system for speakers, namely the PS series, the GEO M6 and the new super-compact ID series. In a light reks of 2U, these two devices provide an input / output patch, processing and 5kW of power for mobile and stationary audio systems.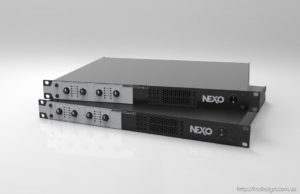 The DTD controller is the first NEXO digital controller that allows you to combine the sound quality of the NXAMP system with the compatibility of amplifiers of other manufacturers. The processor, which provides advanced signal processing for speaker monitoring, provides new access to the most popular Nexo speaker products, since it enables them to connect to amplifiers of any size and magnitude.
NEXO produces two versions of DTD controller: one for tour use and one for installations. In each version it is possible to add a Dante™-input option. Both versions – Touring and Install – are located in the same case with a universal power supply. The Touring version has analog input and output connectors (XLR and Speakon) on the front panel. The Install version has all the connectors on the back, as well as a mini-USB on the front panel, which can be used to update the software and download new presets. Audio can be transmitted directly from any computer or smartphone for easy sound checking or background music playback.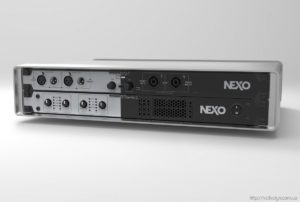 The possibility of signal integration is impressive. The device includes an AES / EBU input (with a sampling frequency of 44.1 to 96 kHz) in all versions, as well as an option to connect to the Dante ™ network.
Typical areas of usage of new NEXO devices can be musical groups, bars, DJs, small rolling companies, etc. – that is, everyone who wants to have a compact and easy to use equipment that has a high level of sound quality. The fact that the processor can be controlled without a computer will be useful for such users.
Link to the source: http://nexo-sa.com