Have you ever felt like a journalist?
On March 2nd the Museum of News was opened in the Art Arsenal. The exposition is timed to the jubilee of the TSN news channel.
For 20 years the news company has created a whole town where modern technology is run by true professionals.
Children's game in journalists – but through the eyes of an adult.
The Museum of News is not just an exhibition but a modern interactive space.
You are plunged into the history of the creation of news from the time of the proclamation of Independence of Ukraine.
Here you can become the eyes, thoughts and hands of a journalist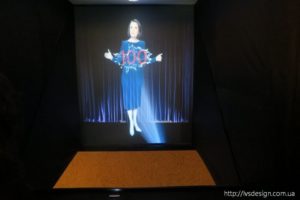 The Museum of News covers 3,400 square meters. This is a unique mix of modern sound and light effects provided by  Zinteco. 
Soundtrack helps deepen the atmosphere of historical events.
Interactive installations reflect facts that TV viewers are unlikely to think about.
3D hologram of Alla Mazur tears everyone from reality.
Glasses of virtual reality send you to the rostrum of the Verkhovna Rada, to the front line, to the exclusion zone in Chernobyl and other historical places.
You can feel like a news host and watch your performance on the camera
Why the Museum of News gained such popularity?
This exposition boldly shows the life of the news "behind the scenes", which can not be seen on the TV screen while sitting at home.
History turns into a fantastic world of human achievements and results of the work of modern technology.
The news museum will be held from 2 to 26 of March.
Address: "Mystetskyi Arsenal", Lavrska str, 10-12