It was 4 years after the tour U2, 360 °. In 2015, the band again went on tour with new name  iNNOCENCE + eXPERIENCE Tour.
Creative team:
– Creative Director: Willie Williams
– Producer / director: Es Devlin
– Video Content: Ben Nicholson (Empirical Studio Compilation)
– Video director: Stefaan "Smasher" Desmedt
– Director of lighting: Mark "Sparky" Risk and Alex Murphy
This time the team once again used the idea of 360 ° tour, but with a more sophisticated stage design for the arena.
Punk style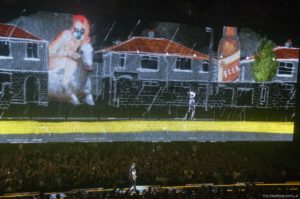 Looking into the lives of teenagers in Ireland in the 1970's, the group decided to reflect the topic of "punk" in the design of the tour; adding to it the idea of passing on the roads "as a place of danger with its bright fluorescent lamps".
Yellow Aesthetics show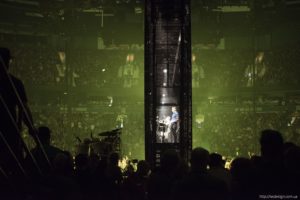 The yellow color palette of the show was used as a brand. Stufish has also developed the logo in bright yellow shades.
Video wall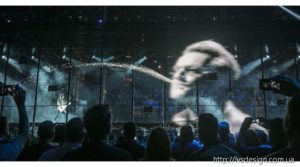 The show featured a story in a rock opera. A video wall that was created was suspended above and parallel to the passage on the stage. Tait built a suspension. 
The design of the video wall was developed by SACO Technologies in conjunction with PRG Nocturne.
– The edge of the LED screen is 29 m in width and 6.9 m in height, each of which contains 240SACO V-Thru semi-transparent video panels.
– The interior space and the floor between the video screens allowed the group to act as a video projection.
– The transparency of the V-Thru screens made up 66% of visual effects – a 28 mm LED canvas in transparent plastic tubes
– Cables were hidden in the V-Thru supporting realms.
– The V-Thru system from PRG supported full-color video (16 bits), this made it easy for musicians to interact with audiences and video content.
Lighting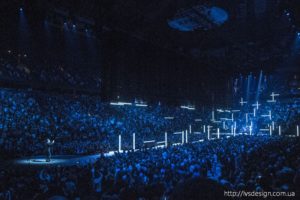 The illuminating suspension was designed by PRG and reated an atmosphere of continuity
The two grand MA2 consoles were used to control 32-bit PRG Bad Boy Spots, 43 PRG Best Boy Washes and 56 PRG Best Boy HP Spots.
16 of PRG Best Boys Spots were placed on the V-Thru screen design to interact with video content.
These solutions allowed to illuminate the scene with the possibility of colors, gobos, dimming and zooming.
The technologies that were used: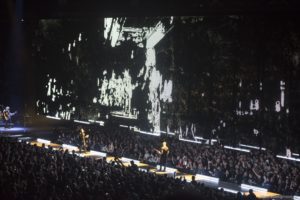 •38 PRG Bad Boy Spot Luminaire
•20 PRG Bad Boy HP Spot Luminaire with PRG Followspot controller
•66 PRG Best Boy HP Spot Luminaire
•47 PRG Best Boy Wash Luminaire
•7 MA Lighting grandMA2 console
•2 MA Lighting grandMA
•2 PRG Nocturne V-Thru screens
•2 PRG Nocturne V-Thru LED Screens
•2 PRG Nocturne VR-7 7mm IMAG Screens
•2 d3 Technologies d3 4×4 Media Servers
•1 PRG Nocturne Karrera S-series SD / HD / 3G capable Video Flypack System
•8 Grass Valley HD Cameras, 5 Long Lens, 3 Hand Held
Source: http://livedesignonline.com
http://www.livedesignonline.com/excellence-awards-2016/u2-innocence-experience-2015-tour
http://www.livedesignonline.com/u2-innocence-experience-tour-2015/ric-lipson-u2-s-innocence-experience-part-1