On September 7, LVSdesign invites to the open master class "Creating stage and cinema lights".
This is an opportunity to get acquainted with knowledgeable person in this area: to hear the secrets of lights building and to get answers to all of the questions you never had the opportunity to ask. The workshop will take place at the LVSdesign studio and all visitors will see everything that new location has to propose.
What will be covered?
This master class will be of interest toanyone whose work is connected with lights (lights designers, VJs, video designers, cameramans, photographers, sound producers, performers).
Main topics
1. Light as an important creative tool.
2. Lights schemes for positioning lights on stage/ in cinema and on TV.
3. Peculiarities and creative possibilities of top notch lighting equipment in solving stage cases.
4. Scene directing with usage of lights.
5. How to solve hard light positioning cases on stage/ in cinema/ on TV.


Our speaker – guru of lights Mikhail Lebedev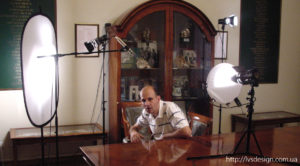 Mikhail Lebedev is prominent figure in this sphere. He has years of experience not only as cameraman but also as lecturer.
– theater and cinema director
– has his own TV director and cameraman courses
– lecturer at the Ukrainian universities in courses: optics and lights equipment, the composition of camera, cameraman, frame composition, digital cinema technologies.
– member of European cinema director's association IMAGO (UGC).
Teaching experience
Lecturer at:
1. Karpenko-Kary National cinema University
2. Kyiv National Culture and Arts University
3. State Intenational University
4. First National TV school
5. Kyiv Politechnics University
6. At courses in Internews-Ukraine and Internews-Virmenia

Finished courses:
directors-reporters ( in1995)

operators of cinema and television (in 2003 and 2008)

4 courses for TV directors at the First National Television School from 2011 to 2015
  Work experience:
Department of TV directors at the Kyiv Television Studio – the cameraman of the Higher category

«ICTV» channel – director

«Альтернатива» channel – main cameraman

Slavic International channel – creative director  

Since 2015 – Creative director of Dynamo-Kyiv YouTube channel.
Journalist for magazines "Telecurier", "Telemir", "Broadcast", Internet media and on the web-sites for television equipment.

Member of the jury at International and National Television Festivals
Lebedev's filmography:
You've heard reviews on these movies, you saw them, you read about them in the media. Many of them received awards: "Dnipropetrovsk", "City of the Archangel Michael", "75 minutes with Valery Lobanovsky", "Jacobin for Dynamo", "Blokhin and his team", and "Ivan Franko".
For more details follow Facebook link.
We are waiting for you to give the new knowledge
Place: Kyiv, Post-Volynska str, 7 (LVSdesign Studio)
Time: 14:00 – 19:00
Participation: free