Why does the LOBODA show make you feel ecstasy? This team works on all details, no matter how miniscule they are. They started preparing for the show only this summer, but LOBODA team has already made a breakthrough.
What results did we get?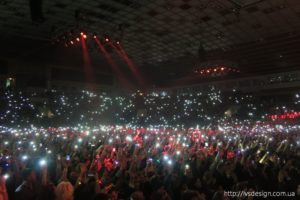 This is the achievements of an entire team of technical work.
Full Hall of the Sports Palace
Zinteco is a general technical contractor of the show. The company, which successfully manifested itself in last year's final show.
40 hours – the time it took for mounting all technical constructions with the equipment.
800 lights fixtures – made the show "alive"
Clay Paky Sharpy, Clay Paky B-EYE, Clay Paky K -20 WASH, Clay Paky alpha beam, NA Power Flash, Vary- lite 3515 spot, Robe spikie.

Zinteco has provided:
Light equipment, frame structures,  Cyberhoistelectric winches and Cybermotion precision positioning system.
Configured the system using LM processors
Acoustic systems: NEXO Geo-T (Delay), AVID VENUE Profile mixing console, Yamaha QL-5, Yamaha M7-SL.
For the best show moments follow the link
Technical aspects are hundreds of details that make the show a legend for fans.