On the weekend in New York, the light showwill lit up the Fifth Avenue, between 49th and 50th streets of Manhattan. Lighting designer Chris Werner created a show across the road from a huge Christmas tree.
This year thematic illumination titled "Land of 1000 pleasures".
The secret of a complex network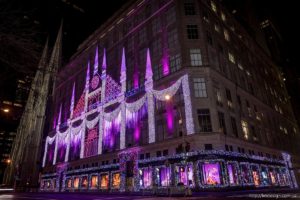 The show lasts 2.5 minutes and is repeated every 10 minutes. Illumination works from 4:35 pm till 11:35 pm.
• There are over 300 ArtNet lines and 120 KINET lines used in the show.
• All of the systems operate on seven media servers of PRG Mbox; MA Lighting grandMA, MA Lighting grandMA OnPC consoles
• One QLab show controller.
Network fibers distribute data around the facade. There are 200 devices with reserved IP addresses, set runtime and monitoring system equipment.
The lights are synchronized with the musical interpretation of "Shchedryk" by David Foster.
The list of devices contains a lot of LEDs :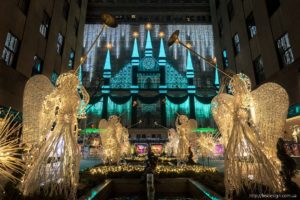 • Minleon
• The Philips Color Kinetics Flex look like a huge crystal on top of the building
• Iluminarc Colorist Line 12Qa
• Common Christmas lights are guided by ETC Sensor dimmer racks
• Lamps are fastened to the department store facade through the hanging brackets installed in the facade joints
The beauty of light that we see is created by hundreds of synchronized systems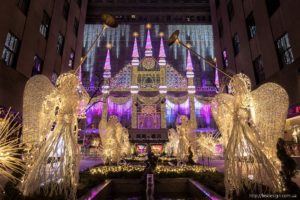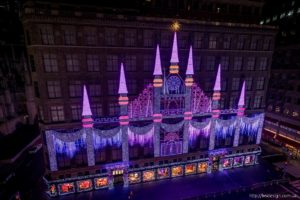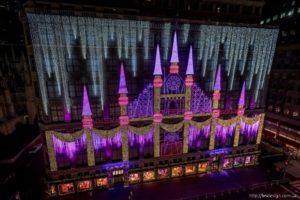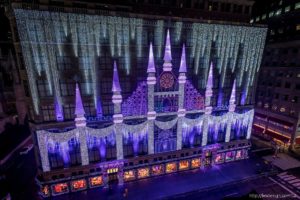 Watch the festive light show on the video